Have you ever succumbed to your good-natured self and graciously shared a bowl of popcorn with your friend only to have them disrespect you for it? Well that's how I feel when I'm shoveling down popcorn and my popcorn partner disrupts me by sassily spouting, "Why do you eat popcorn by the handful," as their limp, soft hand grabs one piece at a time. Is there any other way to eat popcorn other than by the handful?
Because a picture of popcorn would be boring.
You don't eat beans one at a time; excavators don't grab one grain of sand at a time; ravenous wolves don't munch on deer blood one cell at a time. I'm hungry, and if you think I'm going to eat my popcorn like a snooty fairy diaper king then you can go microwave your own bag. There is no enjoyment in eating popcorn one at a time because as soon as it touches your tongue is dissolves into nothingness wherein all you end up swallowing is slightly salty spit (I'm sure there's a sexual innuendo somewhere in that statement). It's offensive.
According to science, the word 'popcorn' comes from a combination of the English terms 'pop' and 'corn'. 'Pop' meaning blow up and stuff, and 'corn' meaning that vegetable that grows on those skinny trees and reappears in your poo. So mathematically speaking, popcorn is popped corn (Google it. I swear I'm not lying). Look back on the times that you've indulged in the art of eating corn. Whether on or off the cob, you've devour more than one kernel at a time. Why should popcorn be any different? If a pea is popped, is it not still a pea?
Also, popcorn is yellow, a color which psychologically stirs up feelings of annoyance. So, why wouldn't you wish to rid yourself of popcorn all the faster? Perhaps this is the reason I become so agitated when someone hinders me from sticking my face into the popcorn bowl, or maybe, those who eat popcorn one kernel at a time are colorblind and/or immune to psychological disturbances. Have we indeed found a superior race?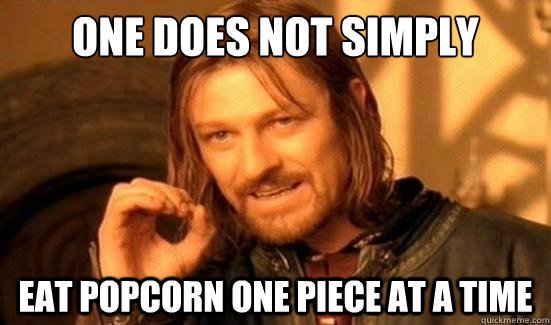 Let 'em have it, Boromir!
I know my intelligence and scientific astuteness is millennia ahead of our time, but if you take the time to examine my popcorn theory, you'll begin to question why you ever ate popcorn one kernel at time if not for some greater purpose.
This was an enhanced repost, but only like 7 people read the last one.
This post has been submitted to
Dude Write 13
. Head on over to read other submissions from fantastic bloggers.