Hey everyone! If you're looking for a silly post to brighten your mood today, I suggest you move on through to the next blog on your feed. Essentially, this post is about what I'm up to as of recent. You may be wondering why I haven't been following my usual schedule of 2 posts per week. I wish I had a better answer other than, "I'm in a
funk
."
funk

1

[fuhngk] noun - not having the momentum to update a blog (see also; lazy).
In case you missed the horrific attempt at a joke, the reason I'm not posting anything is because I'm super duper lazy. However, I believe there are a few excuses I can pull out of my ass to warrant my absence from the blogosphere. So, bear with me a moment while I try to dig up some excuses... Here's a picture of a chicken finger, covered in Monterey Jack cheese, wrapped in bacon, deep-fried, and covered in more cheese that I made a while back. Hopefully it will prompt you to grab a bite to eat while I continue to think of excuses.
Alright, are you back from your snack break?
Oh, you never went on one?
No, it does not look disgusting.
Anyway, I managed to think of a few excuses while you've been gone.
1)
I actually have a post 3/4 of the way completely and was ready to get it online by yesterday night. I just needed to get home to finish it up. Well, it turns out that my sister was visiting the house (though, nowhere to be found), and she brought her newly adopted Beagle/Lab mix.Upon me entering the house, the dog immediately starts flooding the house with his piss. I acted quickly, slapped a leash on his collar and took him for a walk as a stream of lemonade stalked me out the door. After a 10 minute walk, he did not go to the bathroom. Not even once. So, I figured he'd exhausted his supply of pee inside the house. Upon returning to the home, I unclipped his leash and set him free as I began to wipe up the cavalcade of piss (I know that term doesn't fit in this sentence, but it sounds phenomenal). That's when I heard the pitter patter of peepee in the next room. The dog was at it again, unleashing a maelstrom of golden rains upon the couch. Long story short, I didn't have time to finish the post because I had pee all over me.
2)
My birthday was last weekend, and my girlfriend's is this weekend. Therefore, I've been running around like a chicken with its legs cut off. Running around in squares. If only I could kill two birds with one bullet. But alas, I was only barking up the wrong bush. In layman's terms, I've been busy celebrating my own birthday while trying to get my shit together for my girlfriend's birthday (if you didn't get that from my strategic placement of idioms, then go eat... something).
3)
I'm pretty sure there is a pterodactyl stalking me. I keep hearing strange noises outside my window at night. I looked up the noise "
nyaacacaca
" on Google and, according to science, it is in fact the mating call of a male pterodactyl.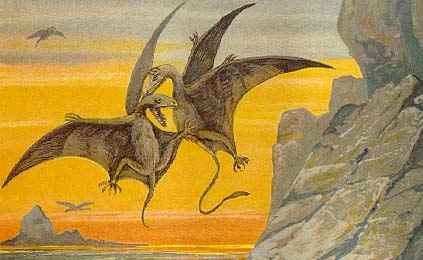 This photo screams 'heavy metal'.
Therefore, it is quite obvious why I have been neglecting my blogging duties. If peeing dogs, birthdays, and pterodactyls are not enough excuses to explain my absence, then I don't kow what you guys expect.
Anyway, I promise the shit out of you that I'll resume my 2 posts per week schedule starting next week. Basically, the point of this post is to let you guys know that I'm not dead.
Also, ignore any spelling mistakes. I wrote this at work, and my computer doesn't have spell check.
I'd like to thank all those who voted for my flash fiction for
Dude Write's Flash Mob (July)
. Because of you, I tied as winner of the popular vote award with Daniel Nest over at
Nest Expressed
. An additional thanks goes out to the judges. In particular, I'd like to thank Madeleine Farraday for awarding me with an award, as well. I congratulate the creators of Dude Write for their excellent work in putting together the first Flash Mob. For those of you who missed my submission, here's the link:
The Bunker
.
Added Bonus-Bonus!
I have also been awarded the Asshole Award (I think) by
Blondie McBaffled
! Graciously accepted, Blondie!
Digital confirmation that I am indeed an asshole.
Dan over at Shameful Promotions is hosting a fantasy (American) football league, and we are short 6 or so players. If you think you have what it takes to choose top-notch players and strategically place them in their corresponding slots, then go to this link and follow Dan's directions:
Get Your Game Face On!
Also, I hear there's talks of a prize for the winner!