With authorities cracking down on the distribution of drugs and alcohol to minors, teens have found alternative ways to obtain the high they desire. Unfortunately, the methods of generating these highs are not only more dangerous than the drugs themselves but are hilariously stupid, as well. Below are just a few of the entertaining techniques these teens use:
The title explains it all. This high is gained by cutting off the blood flow to one's brain. Actually, the high comes from the simultaneous death of thousands of brain cells due to lack of oxygen. You know, those little, irreplaceable things in your head? Though, I suppose it doesn't matter all that much considering you've got to have a pretty low brain cell count in order to try this in the first place. Unfortunately, a surplus of even more dumb people is not what this country needs right now.
Pictures of teens choking each other seemed too graphic.
No, you're not supposed to sterilize your hands with it; you're supposed to drink it, you Silly Billy. Apparently, all you have to do it just add salt and the alcohol separates itself from the other components. A few swigs of this from the safety of a bathroom stall is enough to give you enough liquid courage to ask out your crush, invite your teacher to dinner, and expose your private parts to the janitor while promptly falling short of each of your expectations.
Not hand sanitizer. But, not smart either.
Chugging a bottle of Robitussen will probably be the smartest thing you do all day. You'll have hours of fun hanging out with your close friends in your car while you engage in a polite debate about whether the death of Mufasa lies more in the hands of Simba or Scar. Side effects may include: 1) Over-exaggerating the amount of hate in the world to the point where you weep in each other's arms, 2) hugging a tree until a colony of fire ants becomes threatened enough to wage war with your entire body, or 3) reminiscing about the previous 40 times you've "robo-tripped" as if the other friend had not been there to experience it.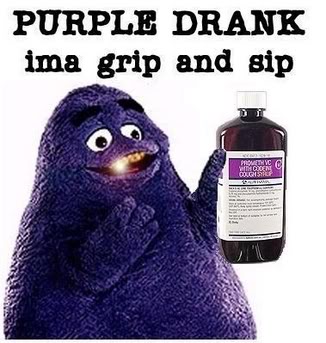 Sweet! I don't need a caption for this one.
Pshh, what do you mean you've never poured vodka in your eye socket? The blood vessels in your eyes allow for quick passage to your blood stream, obviously. So what if it causes scarring and severe burning to your cornea? You'll be supah hammah'd, dude. You have to be wary of complete and permanent blindness; though, what will you care when you're mucho drunk-o, eh?
Not sure if she missed her mouth or if she's actually
that intelligent.
This is a hallucinogen inhalant. It's kind of like huffing paint or snorting bath salts, except you have to take long, exaggerated whiffs of fermented human shit. Well Chiz, what's the difference between this and walking into a port-a-potty? I don't know; I'm not a scientist. But, who would pass up the chance sniff a little bit of their sunbathed shit in ordered to see packs of wolves dancing amongst the stars?
Yeah, well, my dog eats his own shit, and he's
mellow as fuck.
So, Chiz, what do you propose we do?
In order to protect these children from their own stupidity, I propose we laced their cafeteria food with intense amount of hallucinogenic drugs to the point where they suffer an extremely horrific trip and never want to do drugs again. Who's with me? Lace the cafeteria food with acid!
P.S. Don't actually poison the cafeteria food with acid or any other hallucinogenic drug. And, most certainly DO NOT try any of these methods to get high/drunk. I feel like I need to include this because there are people who are that dumb. Fortunately, people like that don't read my garbage blog, anyway.
This is a submission for

Dude Write 5!

Head on over to discover blogs that are far better than mine, and vote for your favorite!